Gulf Coast Real Estate Market Update
Home sales on the Alabama Gulf Coast continue to trend upwards with 5% year on year growth in February 2016 reported by the Alabama Council for Real Estate in their latest market analysis.  A total of 377 residential real estate sales occurred in the shortest month of the year which is 40 more than occurred in the same time a year ago.  The improving economy, and low interest rates continue to spur people to invest in real estate.  Many people from the I-10 corridor extending westward through Mississippi, Louisiana, and all the way to Houston are viewing the Alabama Gulf Coast as the ideal place to purchase a second home.  
Although supply is down and demand is up, the median sales price in Baldwin County dropped several percentage points.  This just reinforces the need for an experienced luxury real estate agent in your housing search.  The market here is unique, and you need an expert.  What seems to be a trivial difference in terminology, like "Gulf front" vs. "Beach side", could mean a huge difference in price and lifestyle to you.  
Let my 20+ years of experience be your guide.  I am one of very few agents nationwide who is an Accredited Buyers Representative, a Certified Residential Specialist, and a Resort & Second-home Property Specialist.  Don't entrust one of the largest financial decisions of your life to just anyone.  Call me today, and remember: You can afford the beach!
Reposted from http://alabamanewscenter.com/2016/03/12/39770/
Sales: According to the Baldwin County Association of Realtors/Multiple Listing Service, February residential sales in Baldwin County totaled 377 units, up 6 percent from last February. Year-to-date sales are 5 percent or 40 units above the same period last year. Two more resources to review: Quarterly Report and Annual Report.
For all of Baldwin County's housing data, click here. 
Forecast: February results were 15 units or 4 percent below our monthly forecast. Alabama Center for Real Estate's (ACRE) year-to-date sales forecast through February projected 681 closed transactions while the actual sales were 692 units, a favorable difference of 1.6 percent.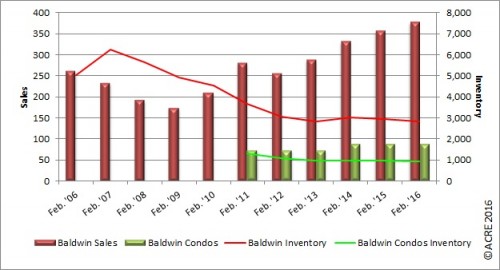 Supply: The Baldwin County housing inventory in February was 2,809 units, a decrease of 5 percent from February 2015. The area's housing inventory has declined by 55 percent from February peak in 2007 (6,236 units). There was 7.5 months of housing supply in February (6 months considered equilibrium for February NSA) versus 8.3 months of supply in February 2015. This is down from the prior month's 8.9 months of supply.
Demand: Baldwin County residential sales increased 20 percent from the prior month. This direction is consistent with local historical data indicating that February sales, on average (2011-15), increase from January by 13.7 percent.
Existing single family home sales accounted for 57 percent (down from 58 percent during February 2015) of total sales while 11 percent (up from 8 percent during February  2015) were new home sales and 32 percent (down from 34 percent in February 2015) were condo buyers.
Pricing: The Baldwin County median sales price in February  was $202,000, a decrease of 5 percent from last February ($212,250). The median sales price also increased 0.6 percent from the prior month. This data contrasts with historical data that indicate on average (2011-15) the February median sales price decreases from January by 2.2 percent. The center highly recommends consulting with a real estate professional to discuss pricing as it can and will vary from neighborhood to neighborhood.
Industry Perspective: "Our February results show the most modest consumer home price expectations since late 2012," said Doug Duncan, senior vice president and chief economist at Fannie Mae. "For consumers who think it's a bad time to buy a home, whose share has trended up from its recent low last November, high home prices have been an increasingly contributing factor. A slower pace of home price appreciation may provide some relief for potential homebuyers, especially first-time buyers who couldn't reap the benefits of selling a home at high prices to buy another one." For the full story, click here.
The Baldwin County Residential Monthly Report is work product developed in conjunction with the Baldwin County Association of Realtors to better serve gulf coast consumers.
– See more at: http://alabamanewscenter.com/2016/03/12/39770/#sthash.7imQatGS.dpuf